Sales, Service, Installation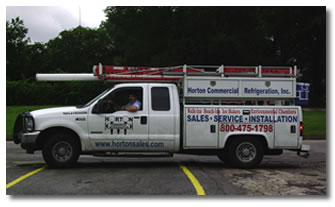 Serving the Dallas-Ft. Worth area and Northeast Texas for over 30 years, Horton Commercial Refrigeration provides sales, service and installation for a wide variety of food service, health care and industrial needs. Our experienced staff will bid, sell, install and service your equipment. Browse our site for more information.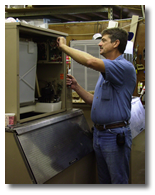 Our staff has combined experience of over 85 years in commercial refrigeration sales, service and installation.
We sell, install and service the top brands of ice makers, commercial refrigerators, soft drink delivery systems, and walk-in refrigerators and freezers, including Manitowoc, True, Master-Bilt, Hoshizaki and Scotsman.

Presbyterian Hospital of Plano, Plano, Texas
Coker-Mathews Funeral Home, Greenville, Texas
Terminal D, DFW Airport
Pizza Hut Park, Frisco, TX
Science Building, Texas A & M University Commerce, Commerce, Texas
Konichi Restaurant, W Hotel, Dallas, Texas
Dallas Country Club, Dallas, Texas
Vought Aircraft, Grand Prairie, Texas
Quik Trip Convenience Stores, Metroplex area
UT Southwest Medical Center, Dallas, Texas
To view additional recent projects, please visit the Installation section of our website.
Horton Commercial Refrigeration, Inc.
3705 Lee St., Greenville, TX 75401
800-475-1798
903-455-1798
Commercial License #TACLA18260R
hortonsales@sbcglobal.net
Horton Commercial Refrigeration, Inc., is a Texas Licensed Refrigeration Contractor with a Class A Refrigeration License Number TACLA18260R, regulated by the Texas Department of Licensing and Regulation - P.O. Box 12157, Austin, TX 78711, 1-800-803-9202, 512-463-6599